Prosexual Booster Formula contains the plant extracts
Cnidium monnieri, Pfaffia paniculata, Mucuna pruriens and yohimbehe
, as well as niacin, which together act on the various mechanisms of male and female sexuality to improve sex drive and satisfaction.
¤
Cnidium monnieri
extract contains osthole, an active principle from the coumarin family, to which its sexual stimulant properties are attributed.
Cnidium monnieri
extract has been shown to increase the release of nitric oxide, thus stimulating production of cyclic guanosine monophosphate, which is essential for achieving an erection.
¤
Pfaffia paniculata
has been used for generations by native peoples of the Brazilian rainforest, particularly as a sex tonic. It contains anabolic-type substances called beta-ecdysterones. Pfaffia paniculata has been shown to increase sexual function and performance.
¤
Mucuna pruriens
is a natural source of L-dopa, known as a libido stimulant. L-dopa is the precursor of dopamine, which is in turn the precursor of noradrenalin, associated with sexual behaviour.
Prosexual Booster Formula
acts in a complementary and synergistic way to Prosexual Formula Man and Prosexual Formula Woman. It can be taken alongside these products on an ongoing treatment or as an occasional therapy before sexual activity.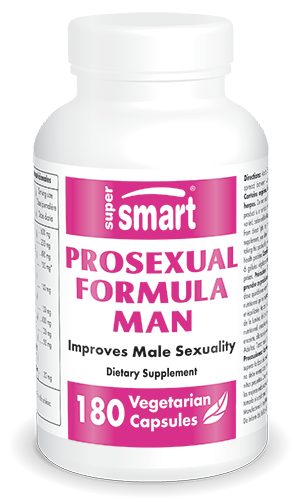 Noradrenalin is considered a natural sexual stimulant.
¤ Yohimbehe contains the alkaloid yohimbine, responsible for its aphrodisiac properties. Yohimbine has been shown to increase desire, sensation and orgasm in both men and women.
Once ingested, niacin - or vitamin B3 - can quickly produce an intense sensation of heat which spreads throughout the body. A reddening of the skin, in particular at the body's extremities, may also appear. This effect generally lasts around twenty minutes and may increase sexual and sensual pleasure, enhancing the body's sensitivity.