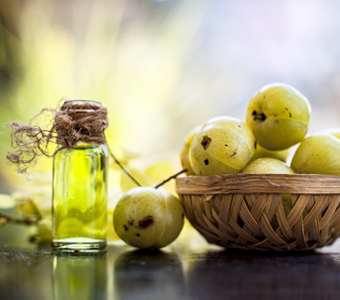 Amla (Emblica officinalis) is the fruit of the Indian gooseberry, used in traditional Ayurvedic medicine for thousands of years. Its beneficial effects are associated with its high tannin content.
This new complex combines two distinct extracts: one standardised to 45% tannins and the other, the recently-discovered Saberry™, standardised in gallic acid and beta-glucogallin.
This dual standardization increases the beneficial effects of amla beyond its antioxidant properties or the properties of polyphenols in improving circulatory problems.

Recent studies involving the extracts in Double Amla confirm its efficacy:
- as an antioxidant and anti-aging protector against superoxide dismutase (SOD) and lipid peroxidation;
- in combating digestive and gastric problems (through an anti-ulcer and anti-secretory effect), in aiding digestion as well as gastric and anti-ulcer protection;
- in supporting healthy cardiovascular function, by reducing LDL ('bad') cholesterol;
- in regulating blood sugar levels and diabetes-related complications. This effect is attributed to the hydrolisation of Saberry's tannins, which specifically inhibit production of aldo-reductase (AR); animal studies have shown that this effect is accompanied by improvements in renal dysfunction, a common complication of diabetes, probably by inhibiting oxidative and inflammatory stress
- in protecting the liver against nitrosodiethylamine-induced cancer and carbon tetrachloride-induced fibrosis. Following a few weeks' continued use, in varying amounts according to the subject, biological markers returned to acceptable levels (ALAT; ASAT; bilirubin; transaminases; phosphate alkaline…);
- for use in cosmetology as it provides oral nutricosmetic substances that combat collagen breakdown by producing a pro-collagen, or counters the harmful effects of UVA and UVB when used in topical creams or gels.
Take one capsule with each meal.
Precautions: Do not exceed the recommended daily dose. This product is a nutritional supplement and should not replace a varied, balanced diet. Keep out of childrens' reach. Store away from direct light, heat and humidity. As with any nutritional supplement, you should consult a health professional before taking this product if you are pregnant, breastfeeding or have a health problem.