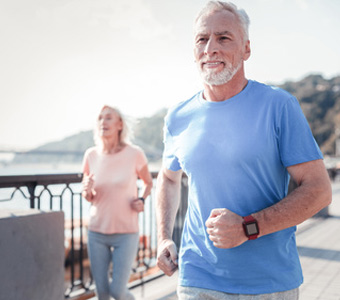 Glycation is a process that involves the denaturation of proteins. It is believed to be a significant factor in accelerating the whole ageing process, both at a physical and cellular level.

¤ Protein glycation, sometimes called 'caramelisation', occurs when a sugar reacts with a protein, resulting in 'glycated' proteins which can neither be destroyed nor released by the cells in which they accumulate.

¤ This can lead to tissue, cell and vascular damage, all of which are selective markers of ageing.

¤ Along with following basic healthy eating guidelines, it is essential to ingest elements that can specifically protect against glycation.

¤ Anti-Glycation Formula can provide those elements.
It contains :

¤ Carnosine : di-peptide combination of two amino acids (beta alanine and L-histidine) present in the brain, muscles and other tissues. Concentration of carnosine needs to be fairly high for it to resist destruction by the enzyme carnosinase.

¤ Benfotiamine : a derivative of vitamin B1, or thiamine. Both water- and fat-soluble, it is a much more absorbable form which passes easily through cell membranes.
- It is beneficial in treating diabetes-related peripheral neuropathy.
- It has a significant inhibitory effect on AGE (Advanced Glycation End) products and provides effective protection for ocular health, the nervous system and blood vessels, all of which are particularly vulnerable.

¤ Aminoguanidine : along with carnosine, benfotiamine and pyridoxamine, has glycation-fighting properties.
- Its favourable effect on blood coagulation helps increase collagen density in the blood vessels, while its sugar and fat metabolism-regulating properties make it an extremely useful element.

¤ L-histidine : helps increase carnosine absorption, and by countering the effect of carnosinase, helps protect cell proteins (in the veins, brain, skin and kidneys).

¤ Sodium R lipoate : the natural form of lipoic acid, protects antioxidants and mitochondria. It also protects neurons by encouraging production of acetylcholine, a key neurotransmitter.

¤ Guava leaf (Psidium guajava) : is an inhibitor of AGE products, LDL, glycation and cholesterol.

¤ Extract of yerba mate leaf: containing caffeic acid, can inhibit up to 95% of AGE products.

¤ Pyridoxamine : combats the formation of atheromatous plaque and prevents damage to DNA.

¤ Banaba extract (see our formulation ) prevents sugar remaining in cells from being converted into fat. Its effect is related to its corosolic acid content (1%). Together, the ingredients in this formulation work synergistically to combat and inhibit the unwelcome effects of glycation.
adults. Take two vegetarian capsules twice a day, with or in between meals.
Precautions: Do not exceed the recommended daily dose. This product is a nutritional supplement and should not replace a varied, balanced diet. Keep out of childrens' reach. Store away from direct light, heat and humidity. As with any nutritional supplement, you should consult a health professional before taking this product if you are pregnant, breastfeeding or have a health problem.