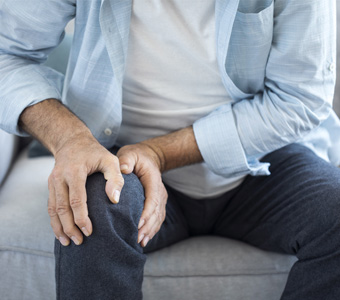 Type II collagen, a triple helical molecule, is the principal structural protein in cartilage, responsible for its resistance to traction and its endurance. Sometimes the body's immune system confuses articular type II collagen with a foreign invader and sends antibodies to attack and destroy it, resulting in deterioration of joint flexibility and mobility. When the body attacks itself in this way, it is referred to as an auto-immune disease.

¤ Studies from Harvard University Medical School have shown that low doses (10mg or less) of undenatured type II collagen, derived from chicken cartilage, act in conjunction with the immune system to prevent such attacks on the joints by the body.
- A study was conducted on 28 patients suffering from severe rheumatoid polyarthritis. Supplementation with undenatured type II collagen for three months produced significant improvements in their condition; four of them were totally cured (Science, 261: 1727-1730, 1993).
- Following three months' treatment with undenatured type II collagen, 8 out of 10 patients suffering from juvenile rheumatoid polyarthritis saw a decrease in swelling and sensitivity in their joints. (Arthritis and Rheumatism, 39:623-628, 1996).
A total of 8 clinical human studies have shown the efficacy of undenatured type II collagen in treating arthritis.

¤ UC-II® is the only patented form of undenatured (native) type II collagen. The type II collagens usually found in nutritional supplements are denatured or hydrolysed - in other words, their molecular configuration has been altered rendering them inactive. According to David Trentham, a Harvard scientist and world authority on type II collagen, "to be effective, type II collagen must be in its native form".

¤ UC-II® also contains small amounts of glucosamine and chondroitin which are equally good for the joints.

¤ Taken orally, UC-II® works with the immune system to promote healthy joints through a process called oral tolerance. This process helps the body differentiate between foreign invaders, such as bacteria or viruses, and beneficial elements such as nutrients. Low doses of UC-II® taken orally stop the immune response targeted at the type II collagen in bone joint cartilage, improving joint mobility and flexibility.

UC-II® is a trademark of Inter-Health N.I. (US Patents 5,645,851,5,637,321, 5,529,786,5,750,144 and international patents pending.)
Take one capsule with a glass of water, at bedtime on an empty stomach.
Precautions: Do not exceed the recommended daily dose. This product is a nutritional supplement and should not replace a varied, balanced diet. Keep out of childrens' reach. Store away from direct light, heat and humidity. As with any nutritional supplement, you should consult a health professional before taking this product if you are pregnant, breastfeeding or have a health problem.