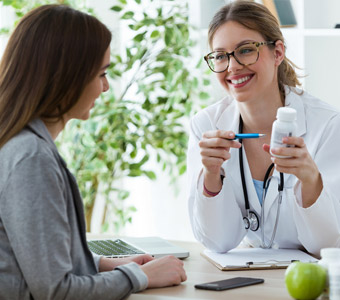 Daily 3® is the most powerful, nutrient-rich antioxidant formulation available in a single, threetimes-a-day capsule. Daily 3® contains significant levels of vitamins, essential minerals, important amino acids and other antioxidant nutrients which, together, provide substantial, synergistic protection. Biologically active, the levels of nutrients in Daily 3® are higher than those provided by even the most varied, balanced and healthiest diet.
Daily 3® contains 43 different nutrients.

¤ Taken every day, Daily 3® — with essential antioxidant vitamins and minerals, the most absorbable and scientifically-supported forms of chromium, selenium and zinc, the acetylated form of the amino acid cysteine to boost cellular levels of glutathione, the full spectrum of natural forms of vitamin E (alpha- and gamma-tocopherol, and tocotrienol), both forms of vitamin C (water- and fat-soluble), lutein and zeaxanthin — essential for eye health, a blend of berry extracts standardized to provide high levels of anthocyanins with added green tea extract and Bioperine® — provides all the nutrients you need to maintain and improve your health.

¤ This new Daily 3® is the first multivitamin in the world to include an active dose of pyrroloquinoline quinone (PQQ).

¤ PQQ (pyrroloquinoline quinone) is a disodium salt of quinone obtained through fermentation. The respected journal Nature has identified it as a potential new B group vitamin. However, PQQ's properties extend well beyond providing this essential nutrient:

¤ PQQ is a redox cofactor with particularly high molecular stability which can carry out thousands of electron transfers before it breaks down. As a result, it has up to 5,000 times more antioxidant potency than vitamin C for neutralising superoxide and hydroxyl free radicals.

¤ PQQ also promotes mitochondrial biogenesis. It activates the genes that control reproduction of mitochondria, stimulating their generation even within ageing cells. As we age, our cells lose mitochondria, resulting in an energy deficit, associated with the majority of degenerative diseases. PQQ is the only substance known to address this serious problem. For more information on this subject, see "".

Although this essential nutrient has been studied for over 10 years, it has only been commercially available for a few months. Due to very high demand, and the fact it is difficult to obtain, it is very expensive. This new Daily 3® is the first multivitamin in the world to include an active dose of pyrroloquinoline quinone (PQQ). Apart from this addition, the formulation remains the same.
Adults. Take 3 capsules a day, one with each meal.
Warning: Contains soy derivatives.
Precautions: Do not exceed the recommended daily dose. This product is a nutritional supplement and should not replace a varied, balanced diet. Keep out of childrens' reach. Store away from direct light, heat and humidity. As with any nutritional supplement, you should consult a health professional before taking this product if you are pregnant, breastfeeding or have a health problem.