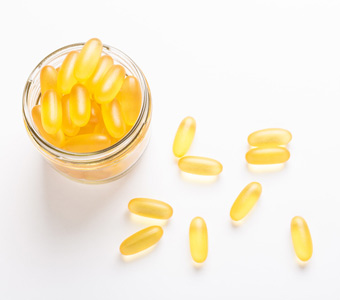 Almost all vitamin E supplements, whether natural and synthetic, contain only the alpha form of tocopherol. But a study published in the Proceedings of the National Academy of Sciences recommends that at least 20% of any vitamin E supplement should consist of the gamma tocopherol form.

In fact, taking alpha tocopherol alone could actually lower the body's levels of gamma tocopherol - and gamma tocopherol inhibits the free radical peroxynitrite which is particularly damaging to neurons. Other studies suggest that gamma tocopherol's activity is much more powerful than that of conventional vitamin E.

Tocotrienols also belong to the vitamin E family. They are structurally very similar to tocopherols (vitamin E), the only difference being that they have more unsaturated bonds, allowing them to penetrate the cell membrane more easily.

The functional consequences of this particular difference are significant: alpha tocotrienol has 40-60% more antioxidant activity than alpha tocopherol. The cholesterol-lowering, anti-thrombotic, anti-mutagenic and antioxidant effects of tocotrienols are well-documented. Two human studies showed that tocotrienol supplementation over 18-24 months reduced atheromatic plaques in carotid arteries. In vitro and animal studies showed tocotrienols to have an inhibitory action against certain carcinogens and a direct anti-mutagenic action.

In fact, it seems that, as with carotenoids, it is better to supplement with different isomers of vitamin E (particularly the alpha and gamma forms of tocopherol) and specific, related forms (tocotrienols) in order to obtain the full effectiveness of the 'E complex'.

This supplement may be taken occasionally by those already taking vitamin E in other forms. For those who do not already take it, it provides, in one daily dose, all the effective forms of vitamin E.
Take one Softgels® a day, or as advised by our therapist.
Precautions: Do not exceed the recommended daily dose. This product is a nutritional supplement and should not replace a varied, balanced diet. Keep out of childrens' reach. Store away from direct light, heat and humidity. As with any nutritional supplement, you should consult a health professional before taking this product if you are pregnant, breastfeeding or have a health problem.