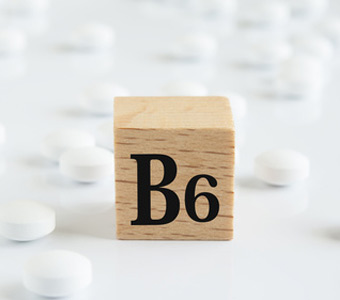 Pyridoxamine 100 mg
Pyridoxamine is one of three natural forms of vitamin B6. A number of studies have shown that it is effective at inhibiting the formation of Advanced Glycation End-products (AGEs) and that it helps delay or prevent the development of certain complications of diabetes. In fact, in vitro and animal studies suggest that pyridoxamine:
inhibits the formation of AGEs and ALEs (Advanced Lipoxidation End-products) by preventing oxidative damage from Amidori products and thus combats the development of diabetes complications and hyperlipidaemia;
reduces oxidative stress by inhibiting reactive oxygen species;
restricts increases in chemical modifications to tissue protein as well as in the diseases associated with these modifications, such as diabetes and atherosclerosis;
inhibits the formation of AGEs/ALEs and hyperlipidaemia, as shown in non-diabetic models, and protects against renal and vascular diseases; a phase II study of 84 patients showed that pyridoxamine slows down the progress of renal insufficiency;
protects the diabetic retina from various pathological changes and should therefore be of benefit in treating diabetic retinopathy. It inhibits AGE formation in the lens by enhancing the activity of aldose reductase and reacting with precursors of AGEs;
inhibits the progress of renal disease, as shown in research on diabetic animals, and reduces hyperlipidaemia and oxidant-antioxidant imbalances;
restores function of the beta cells responsible for insulin production as shown in animals with experimentally-induced diabetes;
neutralizes the highly-reactive and toxic carbonyl compounds formed from the breakdown of glucose and lipids. Since 'carbonyl stress' plays a significant role in the development of Alzheimer's disease, the ability of pyridoxamine to trap carbonyl groups may offer benefits in the treatment of this disease.
It therefore appears that pyridoxamine can limit the damage to proteins created by glycoxidation and lipoxydation reactions and may be beneficial for diseases which involve hyperlipidaemia and/or oxidative stress.
Pyridoxamine's many activities and properties make it a promising option for treating the complications of diabetes and age-related degenerative diseases involving oxidative reactions and carbonyl compounds.
Composition
Daily serving: 2 capsules
Number of servings per bottle: 30
Quantity per serving
Pyridoxamine hydrochloride
200 mg
Other ingredients: Acacia gum, rice bran.
Each vegetarian capsule contains 100 mg of pyridoxamine hydrochloride.
Directions for use
Take one vegetarian capsule twice a day or as advised by your therapist.