Who is Marianna Gillespie?
Marianna Gillespie is a Russian-born French competitive freediver.
At the time of writing, she has been ranked 4 times world no. 1 and 4 times world champion.
An ocean-lover and strong swimmer since childhood, she started freediving at the beginning of 2012 at the age of 22. She enjoyed early success, winning prizes at the first events in which she competed.
Marianna Gillespie trained extensively in Egypt, where she benefited from the warm sea temperatures, and is now based in Greece. A multi-medallist, her winning form shows no sign of waning.
The 3 supplements chosen by the freediving champion
Let's take a look at Marianna's champion tips nutrition-wise. She doesn't eat much in the way of dairy products (because they increase congestion). Nor does she eat much meat.
She regularly takes dietary supplements to stay in tip-top condition: multivitamins, BCAA, coenzyme Q10, magnesium and potassium.
These are the 3 SuperSmart supplements she takes every day: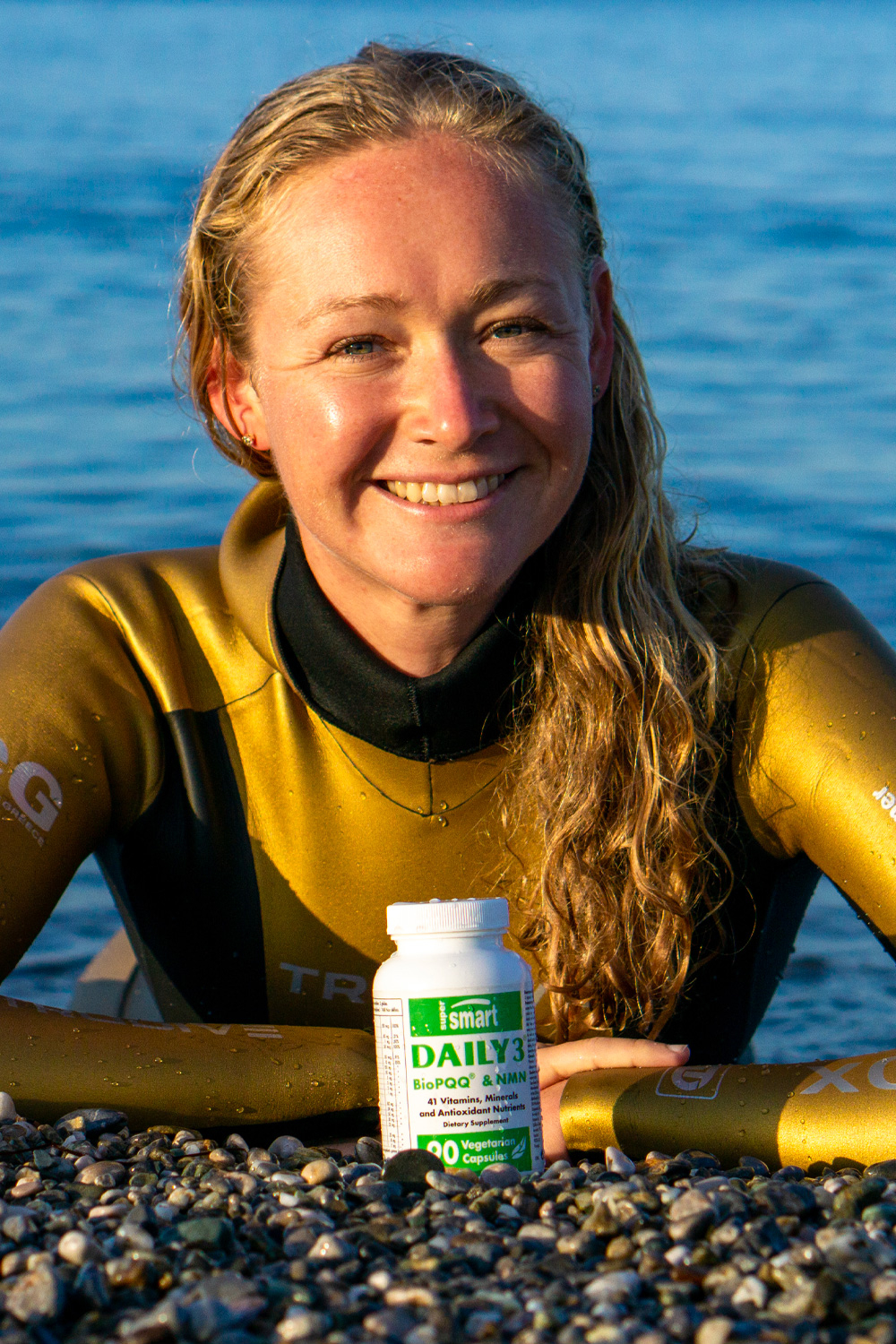 The multivitamin Daily 3®
It's no surprise that topping Marianna's list is the multivitamin Daily 3®, a SuperSmart classic. This multivitamin is renowned for its high content of invaluable vitamins, minerals and phytonutrients in forms offering excellent bioavailability.
The formulation Daily 3® contains no less than 41 high-strength substances including PQQ.
More than enough to help our athlete prevent any deficiencies, support her immune system and boost her energy levels (1).
Name: Daily 3®
Dose: for adults. Take 3 vegetarian capsules of Daily 3® a day, with each meal.
Contents: 90 vegetarian capsules.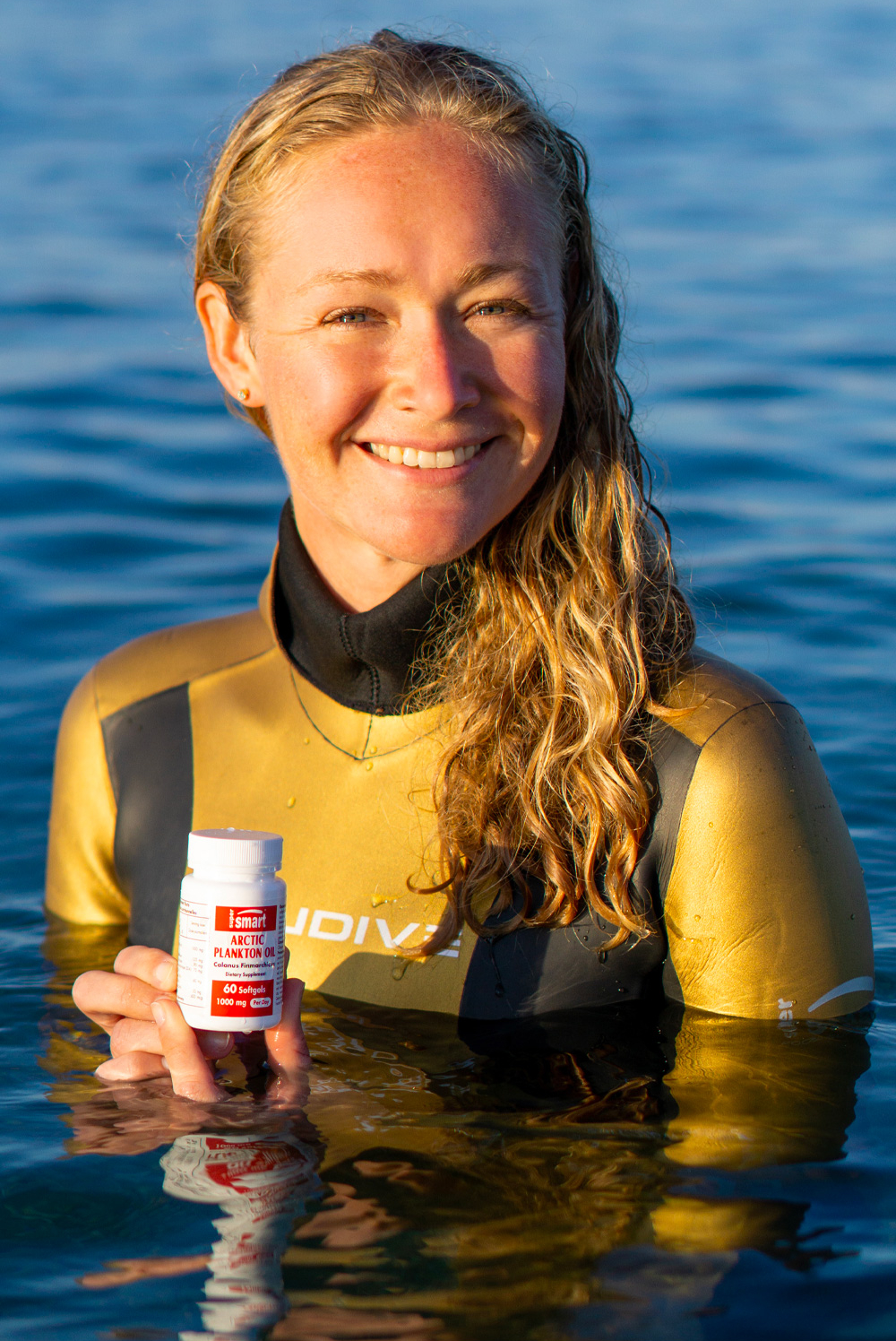 Arctic Plankton Oil with Calanus oil
Marianna Gillespie also supplements with Arctic Plankton Oil, an excellent source of marine-origin omega-3 - sourced from zooplankton, to be precise. What could be more natural for someone who spends so much time in the sea?
More specifically, this oil is obtained from Calanus finmarchicus, the most abundant animal species on the planet, making this product particularly eco-friendly. Arctic Plankton Oil is also notable for its exceptional nutritional quality and the fact that it is completely free of heavy metals.
In terms of health benefits, the DHA and EPA provided by Arctic Plankton Oil are good for Marianna's heart, helping to maintain normal blood pressure. The DHA also helps to support good cerebral and visual function (2).
Name: Arctic Plankton Oil
Dose: for adults. Take 2 softgels a day. Each softgel contains 500 mg of Calanus® Oil.
Contents: 60 softgels.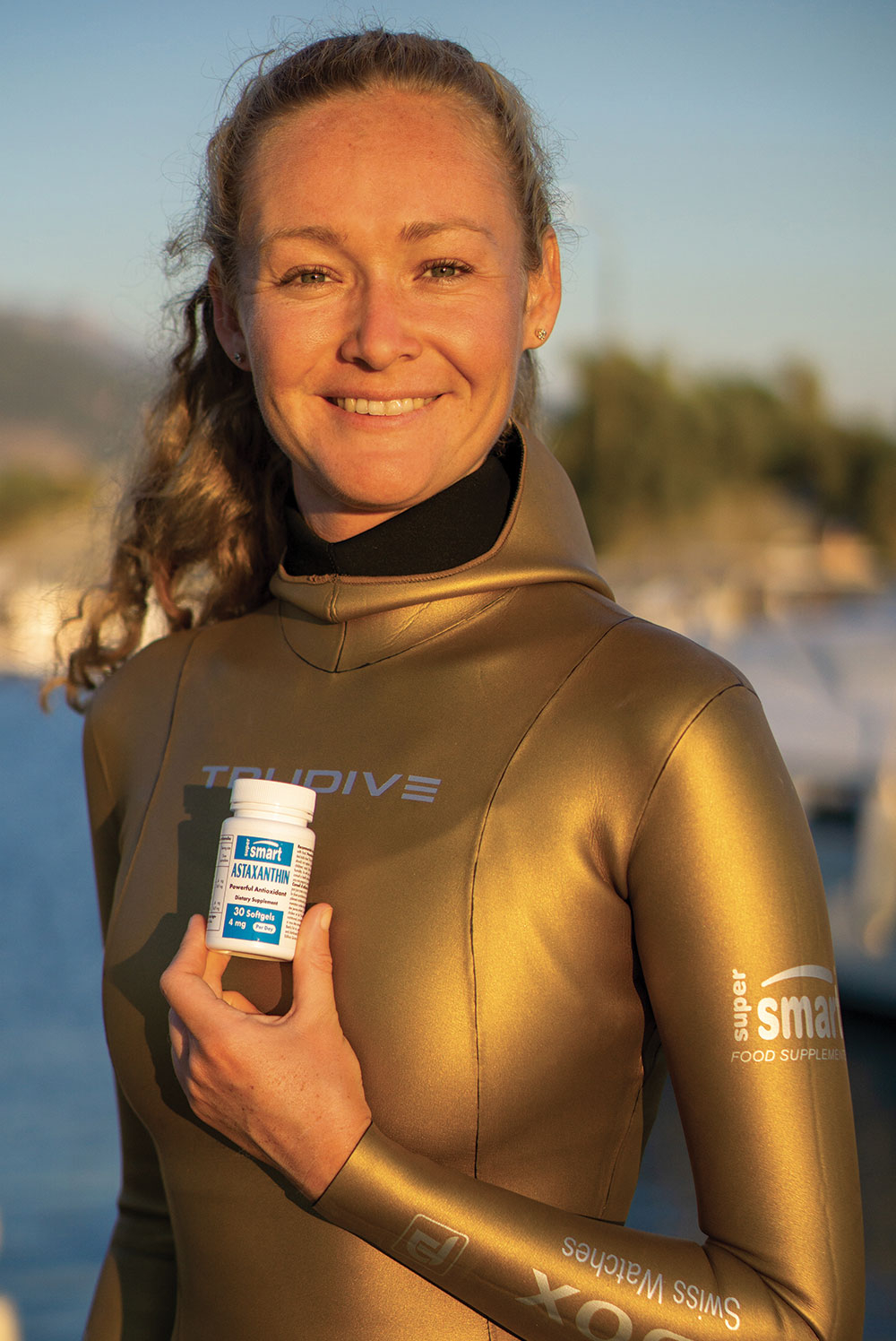 The supplement Astaxanthin
Last but not least, the world freediving champion relies on the properties of astaxanthin, with the product Astaxanthin.
As you may know, this compound is considered the king of carotenoids (a type of pigment found in many living organisms). Astaxanthin is responsible for the pink hues of Lake Retba, or Lac Rose, in Senegal, as well as for the colour of salmon, lobster, scarlet ibises, krill and flamingos.
Here again, Marianna Gillespie has opted for an aquatic product: our 100% natural astaxanthin actually comes from a type of microalgae (Haematococcus pluvialis). This plant produces astaxanthin to protect itself from extreme environmental conditions, such as lakes drying up over summer. According to some studies, this natural astaxanthin may be 500 times more powerful than vitamin E. Our astaxanthin is cultivated in the heart of the Arava desert, using mainly solar energy, and is extracted without the use of solvents (3).
Name: Astaxanthin
Dose: for adults. Take one softgel a day with a meal or as advised by your therapist.
Contents: 30 softgels.
(VIDEO) Marianna tells us why she likes SuperSmart's supplements
(Written transcript below the video)
Marianna Gillespie (two time world freediving champion):
"Freediving is a fantastic discipline, but it's also very demanding both physically and mentally. To stay at the top of my game, I always make sure I provide my body with all the nutrients it needs.
And to help me, I've chosen to take high quality dietary supplements developed by SuperSmart. What I like about SuperSmart is that their supplements are created by a doctor of immunology and offer the best natural ingredients for health.
They help to improve my performance when I'm competing and support me in feeling happier and healthier every day."