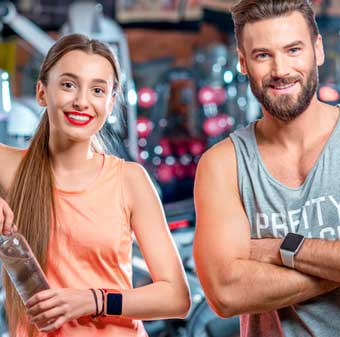 Undenatured Whey Protein Isolate Supplement | 1kg (50 measures)
Whey Protein Isolate (WPI) is made up of a combination of protein and amino acid chains extracted from whey or "lactoserum".
A new, high-tech process, Cross Flow Microfiltration, has enabled an isolate to be extracted from whey that contains over 90% protein, 99% of which is totally undenatured. All the important sub-fractions are retained in their natural ratios, while lipids and lactose are almost entirely eliminated. Natural and non-chemical, this slow, gentle filtration technique protects the proteins' integrity and biological activity.
Who is Whey Protein Isolate for?
WPI is not just for athletes or weightlifters. Since it provides all the essential amino acids, it is particularly beneficial for:
Those who eat little or no meat;
Elderly people who find it hard to chew;
Adults on hyperprotein diets;
Anyone looking to give their health and fitness regimes an added boost several times a year, by supplementing their normal diet.
What do studies show about Whey Protein Isolate?
Studies conducted on whey protein have shown it to have a number of properties:
It increases protein synthesis in muscles and helps to build muscle mass and increase power and strength.
It activates anabolic metabolism at a cellular level.
It stimulates the immune system and has antiviral and antibacterial effects (Helicobacter pylori and salmonella).
It inhibits the spread of cancer (particularly breast and colon cancer, by blocking hydrazines and by the presence of other anti-cancer agents) and increases the efficacy of chemotherapy.
It protects against free radical damage.
It appears to reduce stress and depression by lowering levels of cortisol, the stress hormone, and by increasing those of cerebral serotonin. Its calcium and magnesium content boosts the action of amino acids.
It improves liver function and in particular helps raise glutathione levels when normal reserves are reduced or exhausted and thus limits the aftereffects of hepatitis.
It activates osteoblasts and thus slows the development of osteoporosis.
It protects patients with HIV or cancer from cachexia (extreme weight loss and wasteing).
It helps prevent macular degeneration (AMD) and cataracts.
It promotes healing of skin and muscle injuries, contributes to collagen production and strengthens the joints, tendons and cardiac muscle.
Each dosette contains 19.176g of whey protein isolate and thus provides the protein equivalent of three yogurts or 600ml of milk. In summary, our WPI is an essential concentrate of vital elements and is without doubt one of the most reliable and polyvalent anti-ageing supplements available.
Composition
Daily serving : 4 measures
Number of servings per bottle : 12.5
Quantity per serving
Whey protein isolate
78.28 g
Aspartic acid
7.83 g
Threonine
4.77 g
Serine
3.27 g
Glutamic acid
12.89 g
Glycine
0.99 g
Alanine
3.56 g
Valine
4.20 g
Isoleucine
4.55 g
Leucine
7.55 g
Tyrosine
1.85 g
Phenylalanine
2.13 g
Histidine
1.21 g
Lysine
6.84 g
Arginine
1.49 g
Prolin
3.92 g
Cysteine
1.56 g
Methionine
1.56 g
Tryptophan
0.99 g
Calcium
344 mg
Magnesium
38 mg
Other ingredients : Vanilla flavor. sucralose. soy lecithin.
Each box contains 1 kg Whey Protein Isolate
Directions for use
Adults. Alongside your normal diet, take 20-80g a day (one to four measures), diluted in a drink of your choice (water or plant-based drinks).
- Healthy adults who want to get in better shape: one measure a day.
- Those suffering from illness or muscle weakness, or the elderly: two measures a day.
- Sportspeople: two to four measures a day, at breakfast and straight after training and competitions.
- Guaranteed aspartame-free.
Warning: contains soy lecithin and lactose, and a source of phenylalanine.