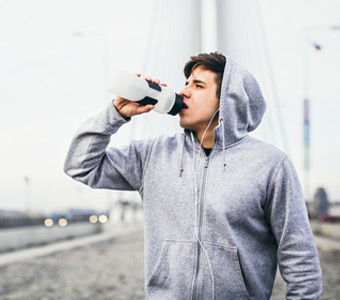 SuperWater Supplement | 500 ml
SuperWater is neither a spring water nor a mineral water and its benefits extend far beyond those of water magnetized by metallic electrodes to enrich it with specific minerals.
What do studies show about SuperWater?
We now know there are three essential factors involved in optimizing cell performance in all the body's tissues (heart, brain, muscles…):
Increased elimination of metabolic acid residues in cells;
Optimal supply of water and oxygen;
Adequate provision of fuel for energy (ATP).
Studies have demonstrated that consuming SuperWater helps eliminate metabolic acid residues due to its high alkalizing ability and provide a surplus of active oxygen ions, not in the free radical-generating O2 form, but in the negative electric charge form, OH-.
In addition, it has the unique property of penetrating the cell intima where mitochondria are located – the powerhouses that produce ATP. In a two-week study of individuals of all ages (mean age 53 years), all participants showed a clear increase in ATP. Levels rose from between 0 and 1 at the start of the study to between 4.5 and 8 on the reference scale. A participant questionnaire highlighted SuperWater's many benefits, in particular:
An improvement in vision;
Increases in vitality and energy potential;
A reduction in fatigue states;
Improved concentration;
More restorative sleep.
These effects on vitality and well-being can be attributed to increases in intracellular ATP and to the alkalisation of the site.
Why take SuperWater?
SuperWater is an excellent detoxifier, able to neutralize the chronic acidosis caused by modern diets which are almost always too high in animal protein and cereals.
Chronic acidosis is a major issue in Western societies. The first signs - a lack of concentration, fatigue, brittle hair and nails, joint and muscle pain – are just the visible tip of the iceberg; over time, chronic acidosis can trigger more incapacitating health disorders (allergies, arthritis, circulatory problems, osteoporosis, migraines, stroke …)
Drinking an alkaline water such as SuperWater is an easy way to control the body's acid-base balance, thus:
Reducing gastric hyperacidity, bloating, and acid reflux;
Significantly reducing headaches and migraines;
Increasing concentration;
Improving cellular communication;
Neutralising free radicals;
Improving sports performance and recovery.
SuperWater can be taken at a dose of 20ml diluted in 250ml of (still) water, twice a day. The first glass should be drunk in the morning on an empty stomach.